Why I Don't Meditate – Yoga Magazine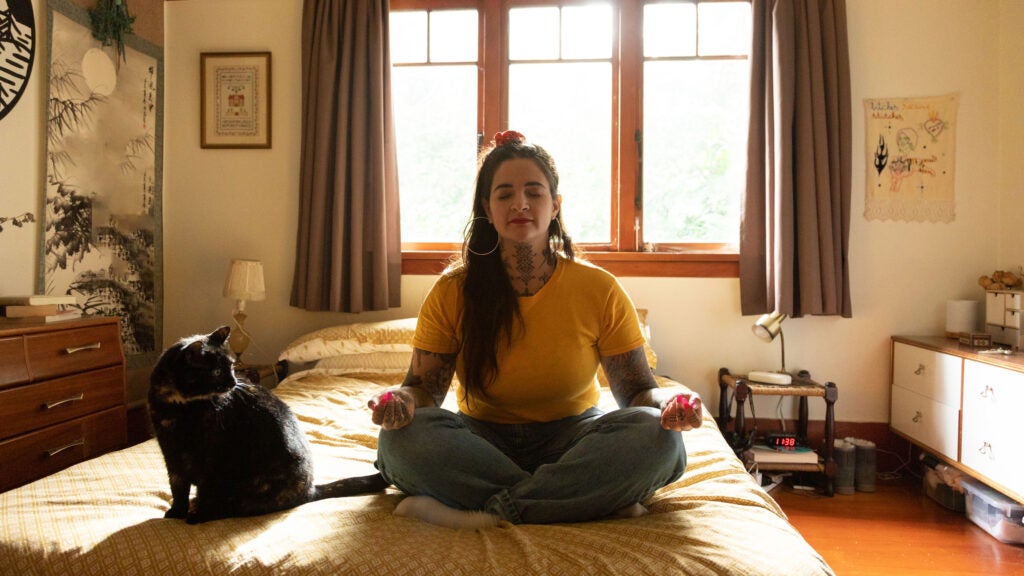 "], "filter": { "nextExceptions": "img, blockquote, div", "nextContainsExceptions": "img, blockquote, a.btn, ao-button"} }">
Going out the door? Read this article about the new Outside+ app now available on member iOS devices! >","name":"in-content-cta","type":"link"}}">Download the app.
I am not a person driven by habit. I wake up at a different time every morning. Sometimes I go to the gym and other days I go to yoga. Even my working hours are different. Depending on the day, you might find me typing after lunch or first thing in at happy hour.
So it's no surprise that when it comes to establishing a meditation routine, I've failed miserably. Like, it really didn't work. When I tried to carve out 10 minutes in the morning for meditation (whether it was chanting, silence, or song), I ended up missing it. (I'll admit that after a sleepless night, I'm often forced to attend yoga classes because of late cancellation fees.) But I've never stressed my inability to carve out time to spend with myself.
Reframing
I have always believed that 10 (long) minutes are required for meditation. I don't know where the arbitrary time came from, but it stuck. Of course, 10 minutes may seem like nothing in a 24-hour day. But in my busy mornings, afternoons, and evenings, 10 minutes means time to empty the dishwasher, answer five emails, or listen to "All Too Well (10 Minute Version) (Taylor Version)." So I sacrifice my meditation practice for other tasks or interests. But lately I've been rethinking my approach to meditation—and what it takes.
YJ contributor Neeti Narula often posts her morning meditation practice on her Instagram. In her Coils, she discusses the challenges of finding time to approach her mat. This surprised me. I assumed that Niti, a seasoned yoga teacher, had no trouble finding time for mindful practices. In my opinion, this was a question that only non-yoga teachers dealt with. I consider myself a "smart" practitioner. But it wasn't like that.
"There are mornings when I'm up against the clock knowing the kids could wake up at any second and sometimes it makes me question whether I should even bother working out," she writes in a recent post. She goes on to talk about the value of taking some time to tune into your mind and body. This is what I experienced too when I was, well, forced to make time.
During a recent meditation class hosted by Balance meditation coach Ofosu Jones-Quarty, he talked about how he struggles to maintain a consistent meditation routine. As he guided us through the practice, he reminded us that wandering thoughts are normal. There was no self-deprecation. I left questions about myself and my own attitude to practice. Why am I so fixated on a random number? Was there another way to approach this?
"For me, progress is a commitment," Niti writes in her latest post. "I've never been a morning person, but I love how starting my day by connecting with myself has shaped my life. It all started with a stain on my mat, a 2-minute timer on my iPhone, and my breath."
I take a cue from Neeti. Instead of thinking of it as a 10-minute commitment to check off my list, I reframe it as a 2-minute break to catch my breath. All I have to do is breathe in and out for 2 minutes. I can do that.
This article first appeared in our member newsletter. To receive these emails and access unlimited articles on Yoga Journal, Outside, Women's Running and more, sign up for an Outside+ membership here.