When the world is falling apart, this is what I do to cope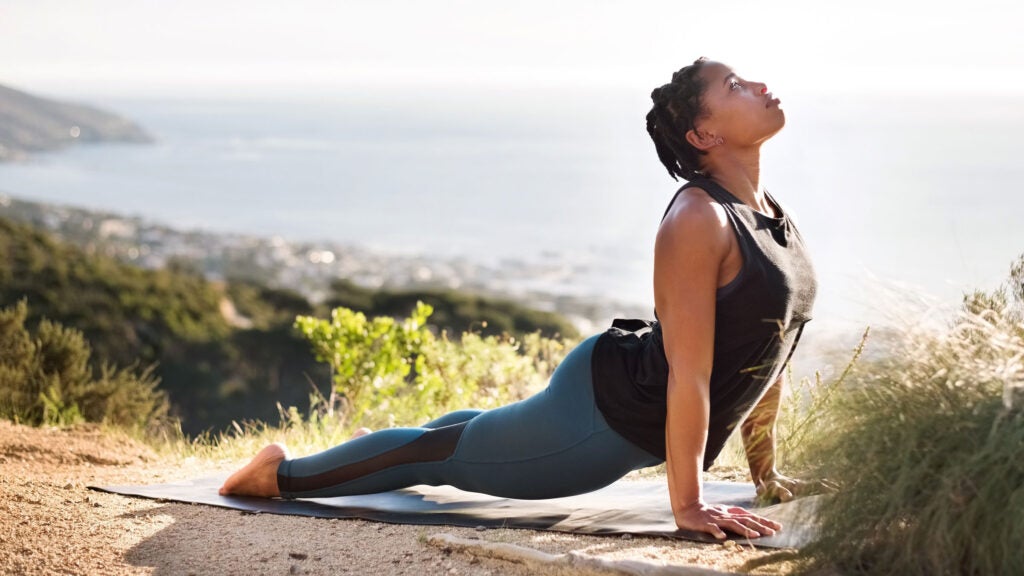 "], "filter": { "nextExceptions": "img, blockquote, div", "nextContainsExceptions": "img, blockquote, a.btn, ao-button"} }">
Going out the door? Read this article about the new Outside+ app, now available on member iOS devices! >","name":"in-content-cta","type":"link"}}">Download the app.
In the days leading up to the summer solstice—the longest day of the year—my part of the country had nothing but torrential rain. On the morning of the solstice, when the Sun was as far from Earth as it will be this year, it honestly was. It was as if deliberately hiding under a thick, silvery cloud.
Isn't that the way? You hope for a clear sky, but the weather is gray. You're looking forward to smooth sailing, but instead you're met with choppy waters. It would be easier for me to overcome life's ups and downs, if it were not for the unexpectedness of it all. You're moving forward when—bam!—you hit an obstacle or setback that seems to come out of nowhere.
Of course, as an adult and a long-time yoga practitioner, I have learned many lessons on how to make peace with what is. When all hell breaks loose, and it does, I know it's best not to ask "Why me?" and instead ask myself, "Now what?"
What's the worst that could happen?
A few years ago I read about a "worst case scenario" exercise that helps me think things through, especially when my anxiety flares up and worries arise. The technique works like this: think about the worst that can happen in a situation. Then think about what you might do if the worst happened. This is probably a dangerous game for someone who has a hard time getting out of the depths of doom. But I've found that this exercise helps me consider all my options, identify my strengths, find resources, and determine where I can go for hope and help. It's more empowering than blindly asserting that everything will be okay. It helps me figure out what I can do to make that happen.
Yoga and other contemplative practices teach us that nothing lasts forever. There is hope in this. For every fall there is a rise. If you're like most people, you've had seasons where nothing seemed to go your way. But you can also look back and determine when the clouds parted and the light appeared again.
It's not just our "dogs" that go up and down
I write this on International Yoga Day, an annual event that coincides with the summer solstice and has come to be associated with saluting the sun. All over the world, yogis reach up and bend forward, practice Down Dog and Up Dog, step forward and step back in a cycle that mimics the ups and downs of life. Sometimes we think we are touching the sky. Sometimes our bones drag on the ground.
In honor of this event, my colleague Renee collected all the best stories Yoga magazine ever made about the different ways to practice Surya Namaskar. (And there are lots of them.) But this series of poses is definitely not reserved for Yoga Day. As the stories in this collection show, the practice of Sun Salutations can be adapted to any age or stage of life. You can practice sitting on a chair, on a bed, or against a wall. Sun salutations can be a way to create tapas (warmth) or soothe your soul as a moving meditation. This is a practice that can serve you in any way you need.
This article first appeared in our member newsletter. To receive these emails and access unlimited articles on Yoga Journal, Outside, Women's Running and more, sign up for an Outside+ membership here.