What is the difference between prenatal yoga and pregnancy modified yoga?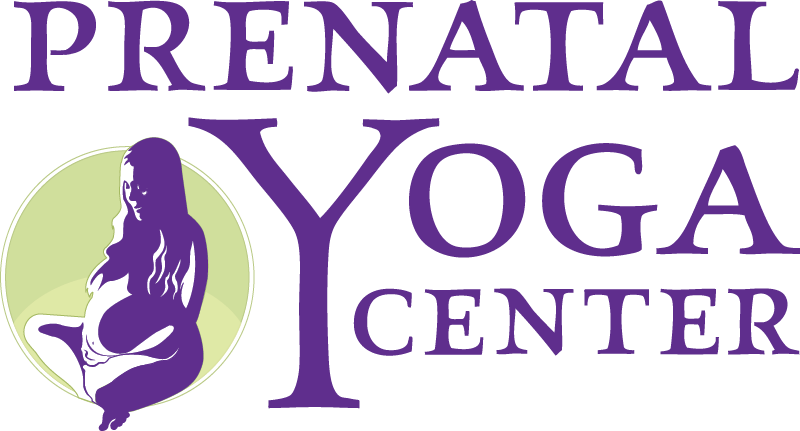 Navigation
Over the years, I've been asked, "What's the difference between pregnancy modified yoga and prenatal yoga?"
I think it comes down to the intent of the class. A prenatal yoga class is specifically designed for pregnant women, while a yoga class where the teacher includes pregnancy-safe modifications is a class that anyone can join; it is not specifically for pregnancy.
So which class to choose?
In my opinion, it comes down to what you hope to get out of it.
Prenatal yoga classes
Why might a pregnant person choose to attend a prenatal yoga class?
A special prenatal yoga class can offer a sense of community that is often so appreciated during times of great change and upheaval in a person's life. It also offers yoga poses that support the path to a well-balanced body, which can make labor and delivery easier.
In prenatal yoga classes, asanas (yoga poses) are used as a tool with multiple functions. On a very practical level, the poses can help ease the daily aches and pains associated with pregnancy. At a more subtle level, postures can be suggested to help balance the pelvic floor, add strength and stability to the pelvis, and help release tension that is often held in the lumbar joint (the "landing strip" for the baby in the pelvis).
In our classes at the Prenatal Yoga Center, we weave the themes of childbirth education into each class. This contributes to the deepening of knowledge about childbirth and the strengthening of students' confidence. While many people attend one-on-one prenatal classes, it can be overwhelming to get all that information in just a few classes. We provide bite-sized pieces of knowledge along with exploration of coping skills to make them easy to absorb and understand.
Finally, a dedicated prenatal yoga class is taught by a certified prenatal yoga teacher who has 200 hours or 500 hours of teacher training experience along with a separate prenatal yoga teacher training certificate. Prenatal Yoga Center teachers complete and graduate from a rigorous program that prepares them to intellectually determine the sequence for the pregnant body, as well as to solve many problems that arise every day in class (for example, sacroiliac pain, pubic symphysis dysfunction, breech babies, placenta previa , acid reflux). , and many other common diseases of pregnancy)!
Yoga classes modified for pregnancy
This type of class is often taught by a teacher who is 200-hour or 500-hour certified and may or may not have additional prenatal education. The teacher herself may have been pregnant and learned how to modify her body, but that does not mean that these modifications can be applied to all bodies.
Yoga classes with pregnancy-safe modifications often take you through a class that the general public attends while the teacher shares alternative poses to those that aren't so pregnancy-friendly.
For those who aren't looking for perinatal community, additional childbirth education, and some pregnancy-friendly sequencing, a general class can support your desire to maintain a practice similar to the one you had before pregnancy. Those who stayed in the previous class can also feel the commitment to the community in this studio.
Another additional consideration when attending a pregnancy modification class is that if the instructor is not pelvic floor trained, the class may inadvertently make your pelvic floor more tense, which can make labor more difficult. If the teacher focuses more on flexibility, hip-opening poses, and encouraging mula bandha (a root lock often taught similar to a kegel), over-engagement of the pelvic floor can result.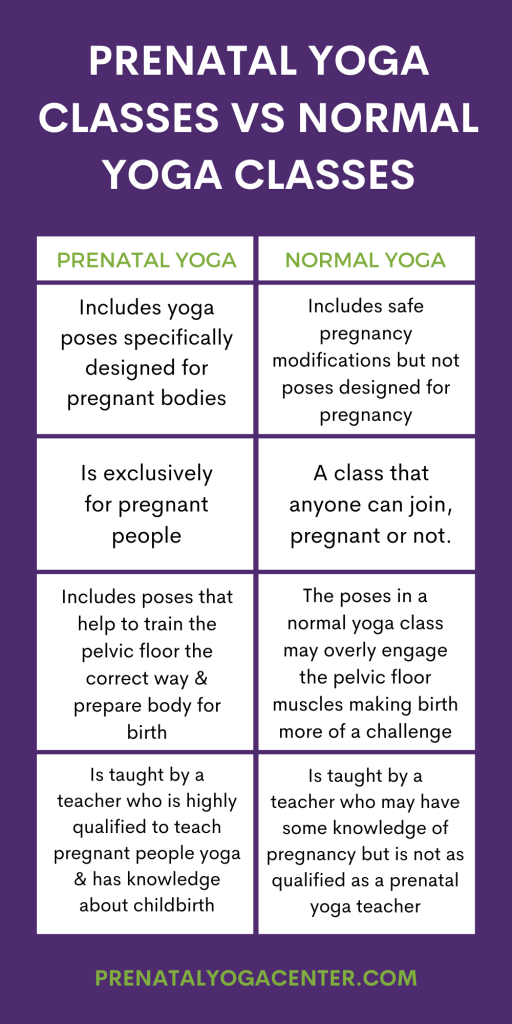 Which class to choose?
There is no right or wrong answer to which class you should take. Both classes have advantages. It's just a matter of what you're looking for in a yoga class. I would recommend thinking about what you want from the class to help you decide where to roll out the mat.
To book one of our prenatal yoga classes, click the link below!
frequently asked questions
What kind of childbirth education can I expect to receive from a prenatal yoga class?
At the Prenatal Yoga Center, we cover topics such as pain management skills, information about the anatomy of labor, and other tips to help you during labor.
Does a prenatal yoga class include pelvic floor training?
The poses we teach in our classes help balance the pelvic floor, ensuring it is neither too tight nor too loose. We also aim to release tension from the lumbar muscle so that the body is ready for birth.
Do I need to tell my yoga teacher that I'm pregnant?
Unless you are specifically attending a prenatal yoga class, you should tell your yoga teacher that you are pregnant. This is necessary so that the teacher can provide you with the correct and safe modifications for pregnancy. Another reason it's important to let them know is that your yoga teacher may not be qualified to teach yoga to a pregnant person, in which case you'll have to make adjustments yourself.