Therabody Vs. Normatec: which compression boot is better?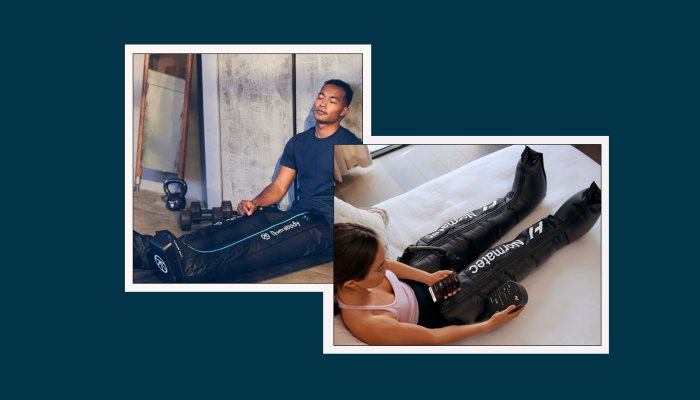 ICYMI, the recovery routine is just as important as the exercise itself. Adequate recovery time in your schedule promotes healthy circulation, reduces inflammation and muscle pain1and contributes to the proper lymphatic drainage 2. The magic of compression therapy lies in the circulatory system, which is responsible for delivering oxygen, nutrients, and hormones to every cell in your body, as well as detoxifying your system. In this Therabody vs. Normatec comparison, we'll break down the pros and cons of these two popular compression tools.
Compression boots will bring the benefits of compression therapy to the comfort of your own couch, no masseuse needed. You can use compression boots to speed up recovery or to warm up before a workout. While there are many brands on the market to choose from, the gold standards are Therabody and Normatec. In fact, these brands are used and endorsed by professional athletes, trainers and celebrities.
If you're not sure about putting your whole foot in a massage boot that will make you look like an intergalactic traveler, we understand. Our editors were skeptical before testing the best compression boots. "An unlikely recovery tool wasn't on my radar, but I got the chance to test out a pair for our best compression boot review. This gentle compression therapy supports circulation, and the effect is instant relief," says Braelyn Wood, associate trade editor at mindbodygreen.
To help you navigate the world of compression therapy, we've rounded up the best compression boots from Normatec and Therabody, with tips on who might benefit from each. Keep scrolling for four options that cover all fitness goals and prices.