The reason I keep coming to my mat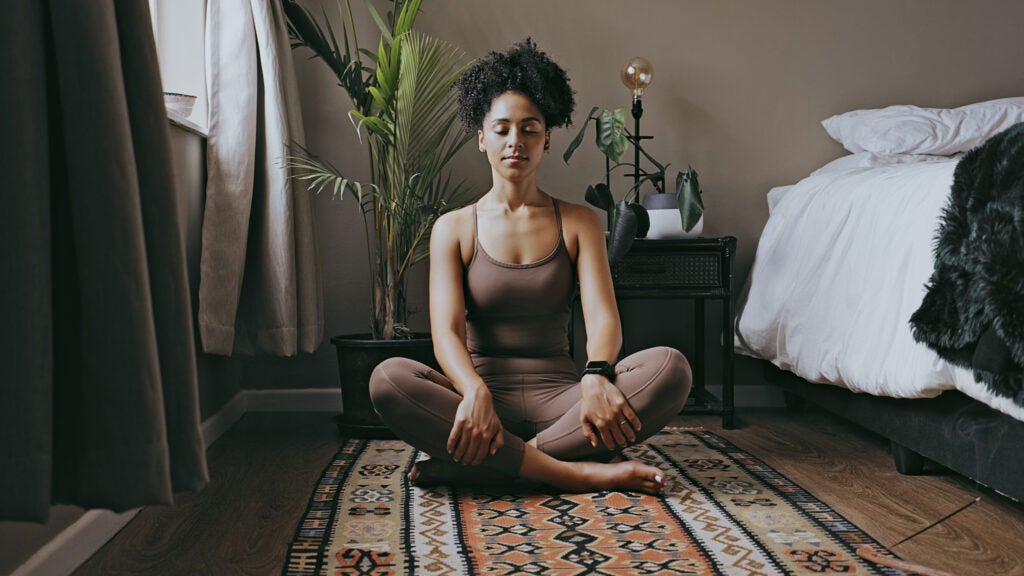 "], "filter": { "nextExceptions": "img, blockquote, div", "nextContainsExceptions": "img, blockquote, a.btn, ao-button"} }">
Going out the door? Read this article about the new Outside+ app now available on member iOS devices! >","name":"in-content-cta","type":"link"}}">Download the app.
When I taught yoga to college students, my favorite classes were always those that focused on the core. Abs are often the scariest part of yoga—and the hardest—at least for me. (My colleague Ellen O'Brien would likely agree, based on her description of the intense core workout she receives in her Y7 class.)
Teaching core sequences gave me the opportunity to talk about basic anatomy—the relationship between the abs and back, the importance of twisting and lateral bending, and the benefits of a strong core for balance and stability. But mostly I looked forward to teaching because we got to look at the "core" from so many different perspectives.
We could pay attention to core values ​​and core beliefs. We might think about what it means to act from a sense of centeredness. I wanted my students (all of whom were girls of color) to understand that the things we learned on the mat—the flexibility we discover, the strength we didn't know we had, the immobility we develop—can be apply to every situation we face.
YJ member Pranidhi Varshni makes this point in her story Why Pain in Yoga Isn't Always a Bad Thing. Her article discusses how to find a balance between pain and discomfort, challenge and safety when performing asanas. But she also suggests that leaning into discomfort is an opportunity to "learn what might happen if we acknowledged pain—both our own and others—and allowed it to act as a guiding force toward truth, power, and connection. »
Working with discomfort
All of us have recently been forced to face new pain. Between meetings and deadlines, I wiped away tears as details of yet another school shooting appeared on the news. Three young children, their guardians and a troubled young man were all dead. They were strangers to me—people I would never know—but whose loss struck me in the heart. Seven more souls have joined the list of 192 people who have died in mass shootings this year.
It's May. It's only May.
When tragedies like this happen, I'm thankful for a mat and a meditation pillow. I learned the importance of a practice that reminds us of our inner strength and helps us overcome our grief, fear, anger, despair—whether we're dealing with a national tragedy or personal misfortune.
But I learned from wise teachers that yoga is more than a balm for hard times—if it ever brings comfort at all. Our stays on the mat challenge and strengthen our self-understanding, our core beliefs, and our sense of purpose, so that when our asana practice is complete, we stand up with a sense of direction. When things are bad—or sad or crazy, as it seems today—a strong core and a firmly rooted purpose can be our guide. Our practice can help us connect with what we are called to do in this world in which we live.
My dharma will be different from yours, but yoga helps us understand and respect that each person's purpose has value. The teachings call us to trust the impulse of our heart to guide our actions. I believe this is true even when your heart is broken.
This article first appeared in our member newsletter. To receive these emails and access unlimited articles on Yoga Journal, Outside, Women's Running and more, sign up for an Outside+ membership here.