The Benefits of Postpartum Doula Care with Valerie Trumbower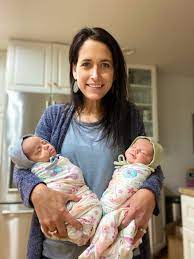 You've probably heard of doulas who help you during labor, but did you know that there are doulas who also help you after the baby is born? They are called postpartum doulas, and they will help you, your family, and your baby.
In today's episode Yoga Birth babies I speak with postpartum doula, certified lactation consultant, and mother of three, Valerie Trumbower, about postpartum doulas. Valerie tells us what a postpartum doula is, what services she provides, and how it differs from the support of friends and family. Valerie works mainly as a night doula, so we also share what that looks like for different families.
I had a postpartum doula with both of my children, they are very hands on. From showing new parents or grandparents the basics of bathing your baby, to helping with lactation issues, circumcision care, or helping you unpack your delivery, postpartum doulas are an incredible resource for you and your family. We even cover how to interview postpartum doulas so you can add to your postpartum support team. I think you will get a lot out of today's conversation.
In this episode you will learn:
Learn about Valerie and what inspired her to become a postpartum doula.
What is a postpartum doula and what does she do?
Future parents should think about the transition to parenthood and start thinking about it even before childbirth.
As a postpartum doula, Valerie usually sees some things that will surprise new parents when it comes to life with a newborn.
Things that Valerie has found universally useful for new parents in her work with families.
How does the emotional support of working with a postpartum doula differ from that of family/friends.
What does the dream of a newborn and the newborn's parents usually look like.
The different meaning of a child's cry.
How to interview a postpartum doula and ensure the right fit.
One last tip/advice Valerie would like to give to new and expectant parents.
Where can you find Valeria's works.
About Valeria:
Valerie Trumbower is a DONA Certified Postpartum Doula, Certified Lactation Consultant, and mother of three, including identical twins. Her online resources, including Expecting 101 and Expecting 101…You're Adopting™, have helped thousands of expectant parents prepare for life with a newborn. Follow her on Instagram, YouTube and Tiktok @newparentsacademy
Contact Valeria:
www.newparentsacademy.com
Instagram: @newparentsacademy
Tiktok: @newparentsacademy
Youtube: Academy of New Parents (https://www.youtube.com/channel/UCE0c64Mk9MTZUAvcDg5dLKw)
Don't forget to grab your FREE guide, 5 simple solutions for the most common pains during pregnancy HERE
If you like what you've heard, please leave a rating and review! Yoga Birth|Babies (Apple) or on Spotify!
To connect with Deb and the PYC community:
Instagram and Facebook: @prenatalyogacenter
Youtube: Prenatal Yoga Center