Rest: Clinical Psychologist Caitlin Harkess, Ph.D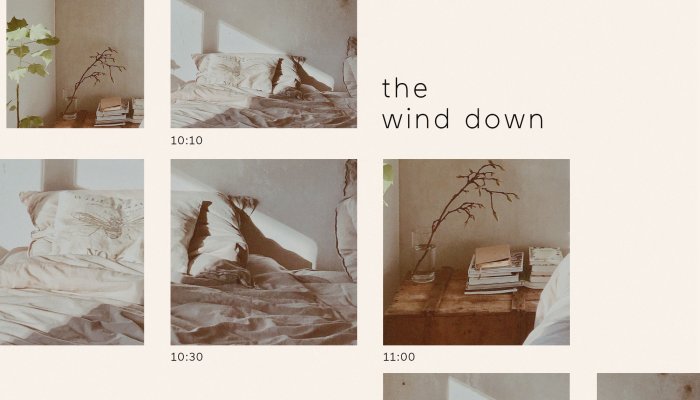 Daily training: Key factors in my day influence my experience when I lay my head on the pillow at night. Especially the morning sunlight and how much I move. Today is therapy consultation day, so I'll be inside most of the day. With that in mind, I start the day standing barefoot in my backyard, slowly sipping an espresso while my kids bounce on the trampoline. (The first ray of sunlight that hits our eyes is a cue to our circadian rhythm and helps us sleep at night, even if it's cloudy.) To make sure I get some exercise, I pack my consulting clothes into a backpack and cycle to my clinic. . If I were planning to drive, I would try to schedule a yoga class or a brisk walk around lunchtime.
7 pm: My bedtime routine starts so early because it has to do with getting my kids to sleep. I'll spare you the long details of my childhood bickering…which, as hard as I feel, will eventually lead to sleep.
7:40 in the evening: I am lying in bed with my two sleeping lovers. In fact, this is when I offer myself a relaxing moment of heartfelt meditation on them while they sleep. I listen to their rhythmic breathing and soak in their little faces. It's a nourishing pause before I crawl into my nightly routine.
19:45: The kettle is boiling, I'm making a cup of herbal tea. It's like a bookend, a ritual that compares the start of the day to freshly ground coffee.
20:07: I join my partner in the office. Once he completes some of the remaining tasks, I am working on developing a group therapy program that I will be offering later this year. Although I sometimes question the balance of work in the evenings, it is my happy place that combines psychology and yoga. However, tonight I set my alarm because I also have a full clinic tomorrow and my nervous system is still feeling weird from today. I know that if I don't take steps to get some sleep, I will probably suffer emotionally tomorrow.
21:15: The alarm goes off (I love a gentle alarm) and I write a couple of sentences to remind myself where I left off tonight.
21:17: In the living room, I pull out my phone to turn on Audible. I set a timer for 15 minutes for the current reading, There are no bad parts Dr. Richard Schwartz. I roll out my Shakti Acupressure Mat for intense sensory release. It's not something I do every night, but if I'm feeling overwhelmed, it really helps reduce the likelihood of me laying in bed exhausted but sleepless.
21:37: The shower is my favorite and I go to mine. I have one almost every night. The warmth of a shower (or bath) means that when you return to room temperature, your body temperature drops. It's a physiological sleep signal, a way of telling your system to transport you to Never Never Land. But more than that, there's something symbolic about the ritual for me, a sense that I can let the heaviness of the day go down the drain. (Don't worry, it's a slow-flow showerhead…because I brush my teeth and wash up here, too!)
21:55: Turning on the bedside lamp, I put down a glass of water and pick up my journal. As I crawl into the covers, I open my journal to think about my day and all the things I need space for. This practice has taken me through some very difficult times as I find that the process of writing often means that it is easier for my mind to let it go. However, I've only recently gotten back into full-time journaling and reading because I recently had a little human awake in my bed. A nice reminder that we can change our rituals with the seasons. (Maybe I'll record this reflection in my journal!)
10 in the evening: "Hey Siri, set the alarm for 6:30." I turn on airplane mode and put it on the nightstand. If I wasn't consulting tomorrow, I would have left my phone in the office, but it's here with the high hopes that I won't wake up to the sound of little feet scurrying down the hall before the alarm goes off. I have a dawn alarm clock in my bedroom… But that's another practice that has found its way into hibernation in this season of early awakenings.
10:02 pm.: Pick up Forty rules of love Elif Shafak from my nightstand, I sink even further into the blanket. I like to read fiction in the evenings. Entering another world frees me of any sticky thoughts my mind might have drawn to, while my shift in consciousness contributes to the wave of sleepiness I'll drift into. This book is especially wonderful because it is spiritual food woven into a love story.
22:20: With tired eyes, I add bookmarks, although I have been known to read well into the night. (Maybe I need another alarm too.) I turn off the light and insert the earpiece on my partner's side. I sleep poorly, my breathing is difficult. I also want to make sure I can hear if someone needs me at night, so this is the best solution I have right now.
1:20 in the morning: "Maaaaaaaaaaaaaaaaaaaaaaaaaaaaaaaaaaaaaaaaaaaaaaa Maaamma." Oh, I can't leave the comfort of my warm bed. In these moments, I find it valuable to acknowledge my resistance. I have to consciously embrace the feeling of readiness as I remove the blanket and go to find out what she needs. Of course, just because I want it doesn't mean I like it. Luckily it was a short midnight bathroom break.
1:27 am: Curled up in my own bed, I return to the land of Nod.
5:55 am: Two small shadows appear in the doorway to the sound of "pitter-patt". The "both/and" experiences of my day start early: I wish I could sleep in and I love how excited they are to come say good morning.