It is worth taking a solo vacation from yoga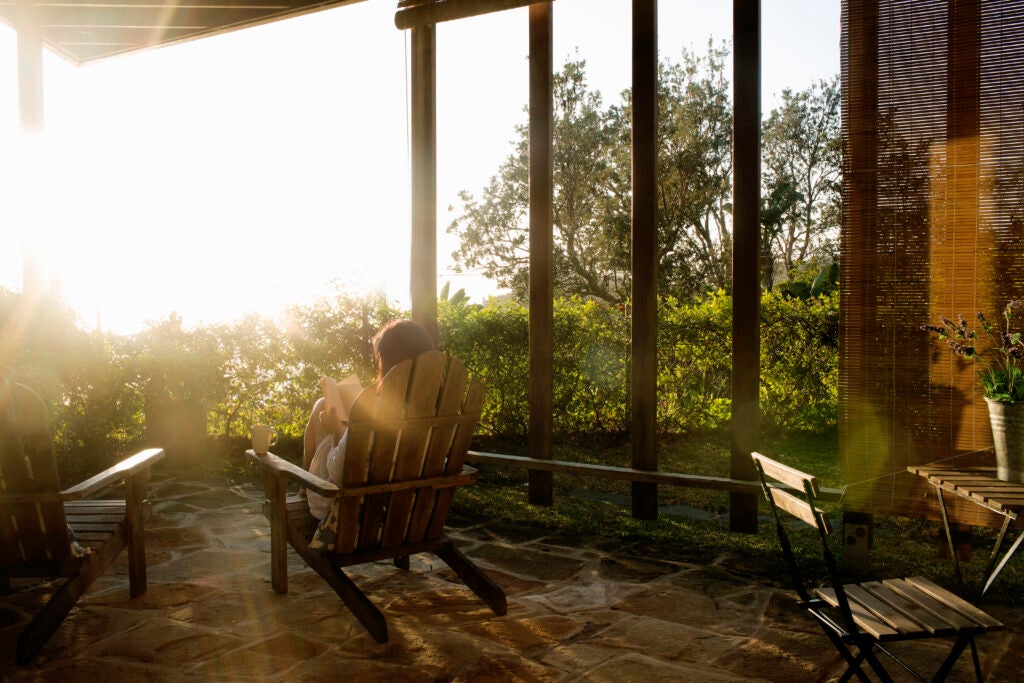 "], "filter": { "nextExceptions": "img, blockquote, div", "nextContainsExceptions": "img, blockquote, a.btn, ao-button"} }">
Going out the door? Read this article about the new Outside+ app now available on member iOS devices! >","name":"in-content-cta","type":"link"}}">Download the app.
When I turned 30, I moved from Atlanta to Philadelphia, got a new job, and ended a toxic relationship. My life turned into a spiral that astrology-loving friends attributed to my Saturn return, a planetary alignment that requires us to make key decisions about our lives. (Think Mercury retrograde on steroids.) When my birthday came around, I wanted to honor my personal New Year in some way—and create a clearer vision for my life. It seemed like a good time to step away, shut up, and take some time to figure out where my new path would lead me.
As an introspective introvert, I didn't want a lavish vacation. My life required some quiet time away from arguments, phones, and other distractions. I needed time to gather my head and think about my next move. The retreat seemed normal.
I didn't have much time (or money) to go far, but I found a recreation center nearby that looked secluded and quiet. I booked a trip for the weekend, packed my bag and got in the car. The lush green campus was a 30-minute drive from downtown Philly, but a world away from my city life. It was just what I needed and it was the first of many solo retreats. They have become a personal tradition that I rely on for rest, restoration, and recalibration.
What is a solo retreat?
There is solo travel, where intrepid travelers embark on a private adventure. But such trips are often more about getting "there" than about "going inside."
You can find many places for yoga and meditation in health centers around the world. In fact, carefully curated yoga retreats have become something of an industry. But they are usually scheduled from dawn to dusk – yoga, meditation, cooking, bodywork, dancing, drumming… There's always something to do, and you don't have to be alone.
When I speak of solitary retreats, I mean the periods of deliberate withdrawal that Christian priests, Buddhist monks, Hindu renunciates called sannyasins, and other ascetics of every spiritual and religious tradition have taken over the centuries. These seekers of enlightenment may spend periods in meditation and prayer or in purposeful work, away from the distractions of the world. Devotees of Hinduism retreat to spend time meditating, studying philosophical texts, and performing acts of devotion. In the Catholic tradition, retreats require "a series of days spent in solitude and devoted to the practices of asceticism."
This "few days" is an important element of the retreat. Spending the night in another bed somewhere hardly gives you time to untangle the time zone or recover your legs, let alone spend time in deep thought. Retreats take time.
Finding elements of lightness
For me, retreat has an element of ease and simplicity. When I'm on vacation, I might worry about the number of my sheets in a hotel or the number of stars in a restaurant. When I'm on vacation, I want a clean and comfortable bed, as well as clean and comfortable food. Ideally, I'd like to have a place to practice yoga and a place to meditate, and I'll take a massage or sauna if offered, but the luxury of the surroundings doesn't matter. It can actually be a distraction of the outer world from the inner world I'm trying to access.
When I seek refuge, I try to find a place that offers quiet walking paths and places to sit quietly, whether in a sun-drenched chapel or in a grove. The rest places I like have set meal times and a buffet of hearty food so I don't have to decide what to order off the menu or count the tip. And there is always tea.
I've made many such lonely escapes over the years. Here are some things I've learned about planning the most fruitful personal retreats.
1. Silence and peace is a commodity
My first independent retreat was at Pendle Hill, a center run by the Society of Friends. As you'd expect from an institution steeped in Quaker values, the accommodations were simple but comfortable. There was an option to rent a hermitage, a cottage located away from the main campus, where I would be completely alone. For me, for the first time, I didn't need such loneliness. I chose a room in one of the main cottages.
The communal dining room included "quiet" tables for people who wanted to stay in quiet contemplation. But the whole conversation was gentle and quiet. This was no place for raucous laughter or heated debate, indoors or out. During the day I would find a place to sit in the October sun and write in my journal. Or I would walk around the area. I could meet other people who wandered alone or wandered into each other in hushed conversation, but a contemplative mood permeated the whole experience. When you're trying to go in, it helps to be around other people with the same intentions.
2. I'm going One does not mean being Alone
For me, a solo vacation means I can keep as much to myself as I need or want. Or I might step out of my comfort zone and strike up a conversation with someone I'm attracted to. Often people who see you are alone will introduce themselves and start a conversation. If you're intentional about what kind of interest you want to have, it's up to you to respond politely and move on, or to fully engage and connect.
At Pendle Hill I met a young woman from Canada who had come for a long retreat. As a result, we ate together and talked for a long time. She invited me to a Quaker meeting in town; it became my spiritual practice for several years. Being open to this chance connection has shaped my path in ways I could not have predicted.
3. It is normal to be yourself and satisfy your own needs
I did girls trips and group tours. I see that people quickly get used to the role. The organizer offers events; Outspoken sets the agenda; the restaurants we choose are determined by the person with dietary restrictions. Traveling as a group means being willing to compromise to meet everyone's needs.
An individual vacation is about the needs of only one person: yours. This means that you decide what to do every day. At the beginning of a retreat, I tend to make decisions like any other, based on logic, strategy, or what my intellect tells me is best. I find that when I settle into my retreat, I feel my left brain giving way to my creative side and I feel like I'm reconnecting with my intuition. Then where I go and how I move on any given day is determined by a sense of flow.
4. When the spirit moves, move with it
One year, my annual vacation took me to a remote house in upstate New York that a friend recommended. I was cold and uncomfortable—no warmth against the autumn chill and not enough blankets. When I went into the kitchen to make myself a cup of tea, I found an endless variety of tea boxes, each one criss-crossed with cobwebs. It was more than I could take. I cut my trip short and returned home the next day. If I were traveling with someone, I might be tempted (or persuaded) to stay. In this case, I did not have to compromise. I didn't have to explain. I could move with my own spirit.
5. Take time to think
Solo travel can include all kinds of activities and adventures, but you don't go on vacation alone unless you plan to spend at least some alone time. For me, the perfect space to relax would have an opportunity for quiet walks, a place to practice yoga, and a place to meditate. Since journaling is my favorite way to get out of my head and tap into my heart, quiet places to sit and write are essential. If hiking, swimming, or walking the labyrinth helps you feel meditative, look for a retreat that offers these options.
6. Let go of expectations
One lucky summer I received a scholarship for a week's retreat at the Omega Institute. At the time, I was a divorced single mother living on the modest salary of a humanities professor. A free week anywhere was a blessed opportunity to get away, as well as a chance to complete a few writing projects. Although I was disciplined enough to make it to yoga early in the morning, most afternoons were spent sitting on the terrace outside the café with my bare feet resting on the banister and working out nothing. Or I would retire to my little vine-covered hut, open the windows to let in the breeze, and sleep soundly, lulled to sleep by the buzzing and chirping of insects. After the first few days, I realized that my lack of motivation to "do something" was a result of how burned out I was from work and responsibilities. I gave up the idea that I needed to produce something and devoted myself to what I needed.
Reason for retreat
In everyday life, I am responsible for… everything – myself, home, work, child, and now my parents. I wouldn't give up the freedom to make my own decisions, but I recognize that there are times when I can enjoy a blanket or a helping hand. So why does traveling alone seem so nourishing? I think it comes down to being able to meet your own needs more fully.
Whether you live alone, as a couple, or in a community, your days can be busy and full of distractions. It's easy to find yourself moving through the world on someone else's schedule and, if you're not careful, someone else's plan. Solo retreats are a time to remind yourself of your own rhythms. I ask myself acute questions: What do I like? What do I need? What makes me happy? If I pick the right spot and give it enough time, I can find my own flow again.
Or, of course, a solo retreat tests your ability to enjoy your own company, to tolerate the voice in your own head. But if you give yourself the time and space to do some helpful introspection, you can gain a sense of clarity and direction. Or you may not. The product of your time alone doesn't matter much as long as it gives you a chance to practice self-acceptance and self-love. The perfect single allows you to see the value of spending time with someone as special as you.
---
Tamara Jeffries is a senior editor Yoga magazine.