Get Outside Tour: We're moving your way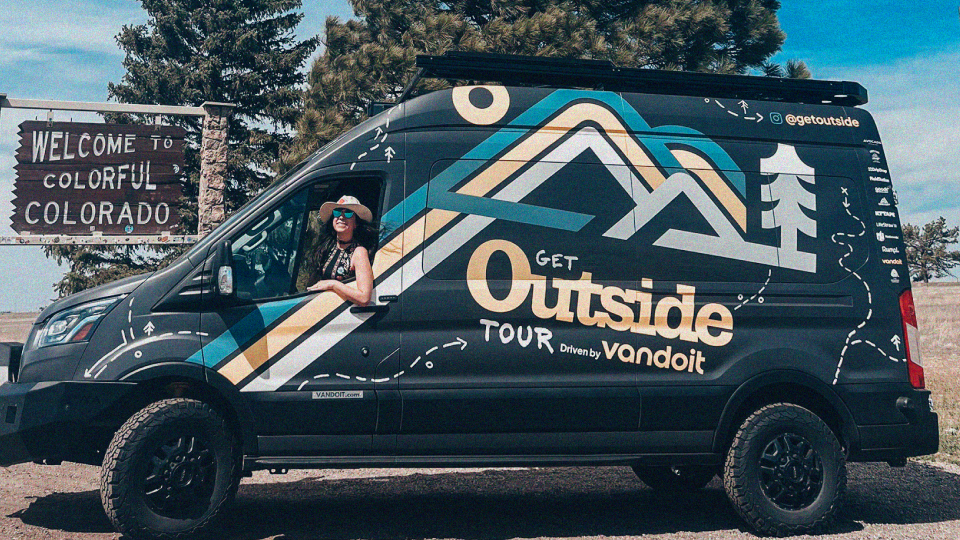 "], "filter": { "nextExceptions": "img, blockquote, div", "nextContainsExceptions": "img, blockquote, a.btn, ao-button"} }">
Going out the door? Read this article about the new Outside+ app, now available on member iOS devices! >","name":"in-content-cta","type":"link"}}">Download the app.
Get everyone outside. That's our mission here, and that's why we hit the road with Take a tour. We've had a lot of fun traveling from city to city celebrating the great outdoors at big cycling events like the Sea Otter Classic and truly unique hiking gatherings like Appalachian Trail Days. We've already met thousands of adventure-seeking outdoor enthusiasts, and we can't wait to meet you as we roll through your city.
Come out and join us as we share stories from the road and the trail during our informative clinics, inspiring speaking series, and celebration of all things outdoors. Join the fire as we gather at the biggest festivals, host guided tours, host workshops, give away tons of gear, and support nonprofits that get more people involved in nature.
Upcoming Get Outside tour events
Here are a few events we have planned soon, and there are dozens more on our calendar.
June 17-18 Adventures in nature X
Snowbasin Resort – Huntsville, Utah
Set up camp, check out new gear and try out demonstrations, as well as participate in clinics, guided hikes and gear giveaways at this mountain festival.
July 7-9 | Outbike
Killington, VT
Try out the demo bikes and join us for a fun, family-friendly group ride and introduction to the mountain bike clinic. End your day with us at an Outerbike happy hour celebration and fundraiser benefiting Public Land Solutions.
July 14-15 Look for the top
Mount Washington, New Hampshire
Come hike, bike, paddle, climb, fish and run to support the Mount Washington Weather Observatory!
Check out our full calendar
Want to win a bunch of gear?
Plush dog beds with avocado green mattress. Verified backpacks Gregory. Cozy blankets Rumpl. We're giving away all of these items and more on the Get Outside Tour, and we want to share it! Enter our giveaway for a chance to win a sweet $5,000 worth of gear from our sponsors:
Avocado green mattress | Cutty Sark | DripDrop | FieldStation | goodr | Grigory | Tape KT | LifeStraw | National | Rumple | Vandoit | Woolmark Company