Find Zen in every corner of Vermont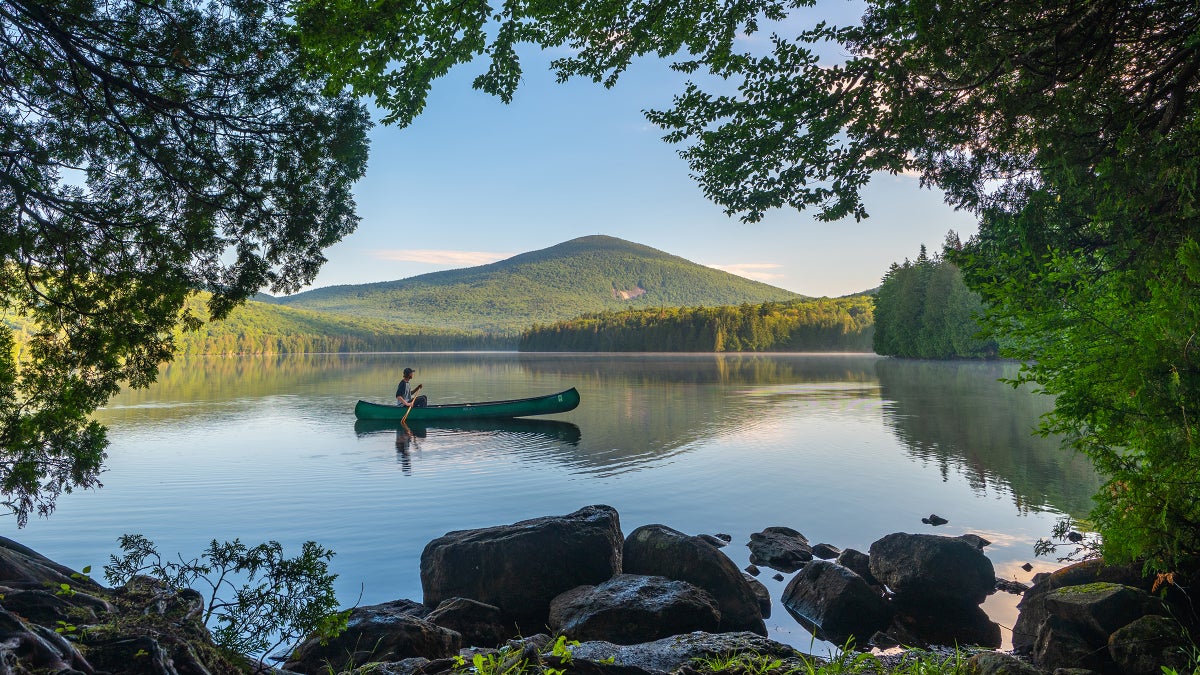 "], "filter": { "nextExceptions": "img, blockquote, div", "nextContainsExceptions": "img, blockquote, a.btn, ao-button"} }">
Vermont's wooded mountains, scenic farmland, and peaceful atmosphere make for a relaxing vacation where you can relax and reconnect with nature. Year-round outdoor recreation, a culture focused on an active lifestyle, gastronomy where clean, farm-to-table food is the norm, not the exception: Vermont checks all the boxes. And because Vermont offers so much variety in such a compact area, exploring the entire state is very possible—crossing the sixth-smallest state from south to north takes about three hours. Whether you're packing it all into one trip or planning multiple visits, here are our suggestions for a relaxing and rejuvenating vacation in Vermont.
Salute the Sun
A trip to Vermont is all about spending time in nature at its best. Wake up before dawn to enjoy that sacred time when the world is still and set your intentions for the day. Relaxing mornings on the mat are always great, but you can also take sun salutations to the next level with a dawn hike.
(Photo by Gretchen Powers and Vermont Tourism)
Explore the Northeast Kingdom
Vermont is one of the most heavily forested states in the country. For the best sunrise view, climb above the trees to the observation deck. In the Northeast Kingdom, a fire lookout atop Bald Mountain offers views of the sprawling forest and lakes below. The 4.2-mile trail begins at the Long Pond Trailhead at Instagram-famous Lake Willoughby, known for its stunning fall colors, and climbs to the summit. Not sure if you want to start your hike before sunrise? The historic summit lodge was restored in 2013 by volunteers who carried construction materials to the site on foot, and is open to overnight campers on a first-come, first-served basis.
A hike in northwestern Vermont
In northwestern Vermont, hike the Puffer Cabin Loop to the Puffer Shelter for some of the best views in the region. The 6.9-mile loop begins at the base of Bolton Valley Resort, the state's highest base lodge at 2,100 feet. From the summit of Mount Bolton, at an elevation of about 3,650 feet, a wide view of the surrounding woods can be enjoyed. Tourists can stay overnight in the village shelter, which sleeps six (first come, first served). The Long Trail, a classic Vermont hike, connects to the Puffer Cabin Loop, so the shelter can get busy in the summer.
Tip: Fall can be a busy time when hikers flock to the trails for the best fall colors. Hiking at dawn is a surefire way to beat the crowds, but you can also check out these local recommendations for alternative autumn hikes which are just as impressive.
Develop your creativity
Art truly has the power to ground and inspire us. Vermont is home to a strong arts and crafts scene, so whether you enjoy making art or appreciate the feeling you get from being surrounded by it, Vermont will fuel your creative side.
Explore outdoor art
Vermonters take their time outdoors seriously. So it is not surprising that the state is filled with the public open air art exhibitions in an eclectic mix of styles. On 14 acres Garden "Path of Life". in southern Vermont, sculptures and botanical art, including a hedge maze, invite visitors to contemplate the human life cycle. The garden has been an evolving installation since 1997 and is still designed and maintained by original artist Terry McDonnell and his family. While visitors can come to the garden by car, kayaks and rafts are the preferred means of transportation during the summer months. Rent a jet ski and take a boat about five miles up the Connecticut River until you reach the garden, which is right on the river.
Advice: Trip Vermont Scenic Byways and stop by the sculpture gardens and frescoes that catch your eye.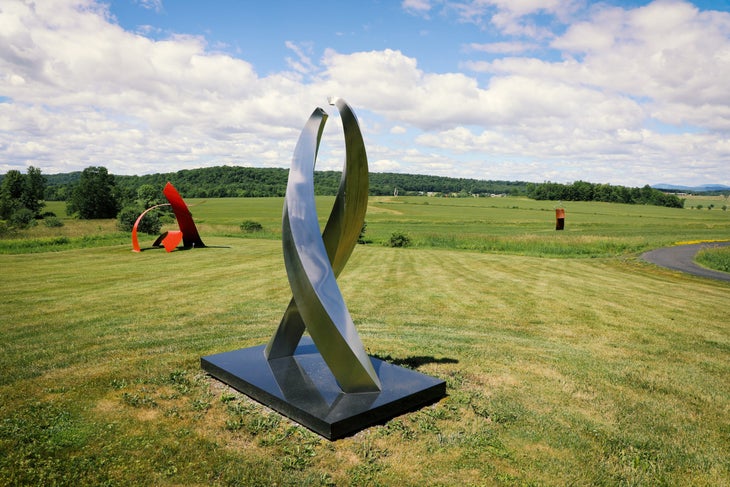 Take the course
For more hands-on experience, visit any of the three Vermont training centers. The Fletcher Farm Schoolin southern Vermont and Shelburne School of Crafts, just south of Burlington, both offer one- and two-day workshops that will add a dose of creativity to your vacation. Try your hand at crafts such as clay, glass, and metalwork, as well as fiber arts, jewelry making, basketry, quilting, or woodworking.
Clear your mind
The Vermont countryside is the perfect place to relax during your vacation. From wellness weeks filled with yoga, delicious food, and time in nature to spiritual programs with an emphasis on meditation, Vermont has plenty of opportunities to unplug and re-center.
Farm houses
Head to an idyllic farm for a week or weekend getaway. The Empty center, in southern Vermont, hosts a variety of retreats to help you get back to nature and yourself. Each weekend is unique and includes seasonal activities like fall foliage hikes and natural dye experiments, as well as farm-to-table food, reflective talks, meditation and yoga, all set on a pristine 180-acre estate in the Green Mountains. .
Traditional Buddhist meditation
For a meditation experience based on Buddhist teachings, head to Triangular Buddhist Institute, in central Vermont. The 365-acre meditation center in the Green Mountains offers visitors master classes in Tibetan Buddhist practices led by beloved guru Kyabye Trijang Choktrul Rinpoche.
Advice: If you're looking for a relaxing atmosphere without going on a formal holiday, check out the luxury deals at Twin farms, in central Vermont. The 300-acre retreat helps guests create their own vacation with a mix of on- and off-site adventures, spa and wellness services, fine dining and luxurious accommodations.
Spend time on the mat
Of course, when it comes to refocusing, time on the mat may be just what you need. And a vacation is a great opportunity to revive the practice of yoga. During the warm season, Vermonters like to do their favorite activities, including yoga, outdoors. Check out these unique yoga practices in Vermont.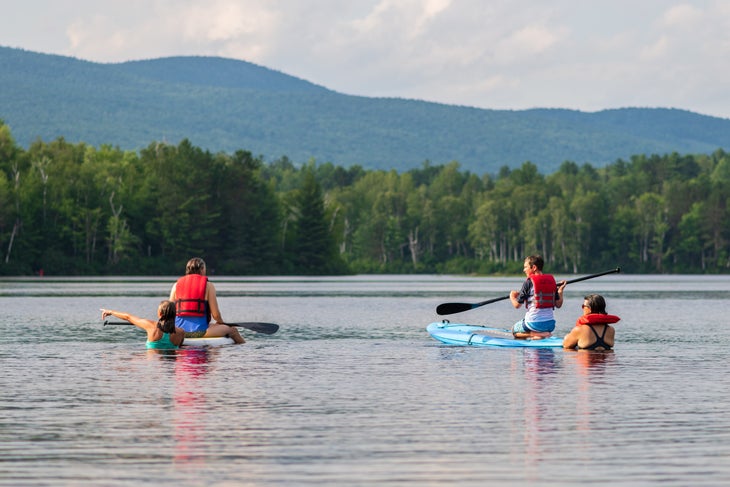 SUP and yoga
In the height of summer, Vermonters extend their outdoor adventures with refreshing dips in local swimming holes and spending time on the water at more than 800 lakes and ponds across the state. SAP Yoga facilitates this tradition. Go out on the water with rental from PaddleSurf Champlain, in Burlington, Vermont, for paddleboarding down dogs. Tours and lessons are offered throughout the summer, so you can paddleboard in the comfort of your own home under the guidance of a professional.
Yoga under the trees
Unfurl your mat high in the treetops on the elevated Forest Canopy Walk Vermont Institute of Natural Sciences. The walkway, located fifty feet off the ground, provides a unique view of birds of prey and other birds nesting in the treetops. The institute runs classes as special events during the warmer months until fall, but the Canopy Walk, which is open to visitors daily, is especially beautiful when the leaves change.
---
Vermont's ever-changing landscape draws outdoor enthusiasts year-round, where a variety of natural beauty creates space to slow down, look around, and just pay attention. Vermont can inspire, restore, and bring you to a whole new state. Subscribe to receive the latest Green Mountains news.