5 tips for yoga teachers to increase their impact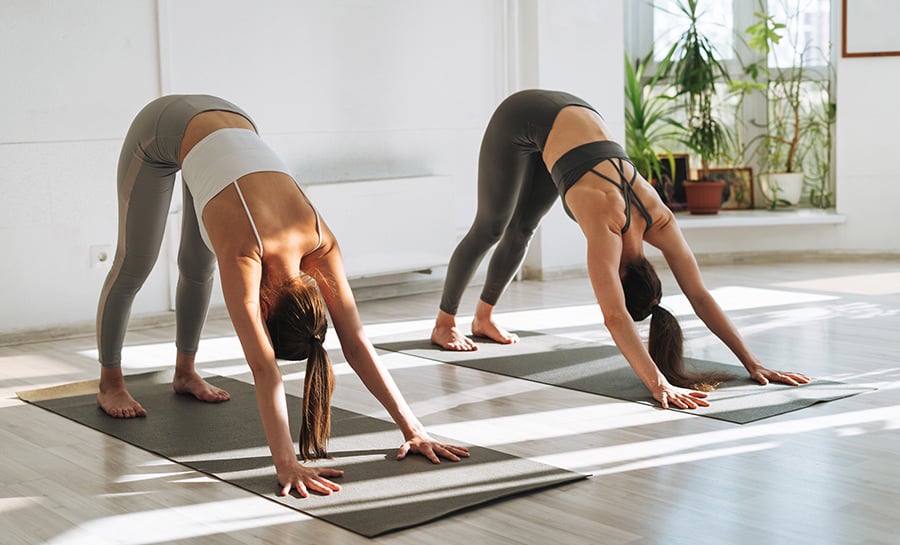 Calling all yoga teachers: If you're looking for tips on how to maximize your teaching impactthis article is for you!
As a yoga instructor, you must be able to teach classes, have an in-depth knowledge of anatomy, and assist students in proper settings while maintaining studio or practice space, props, and music.
In addition, today's yoga teachers must also have some understanding of how to manage social media and a website to promote their classes and events.
The art of teaching is easy to absorb, so many yoga instructors neglect to focus on themselves and their craft. Not only does this harm your personal health and practice, it also affects your students and your teaching as an extension of your spiritual state.
With all of this in mind, read on for our top five tips for yoga teachers to help you manage with integrity and be as effective and impactful as possible for your students.
5 tips for yoga teachers (don't neglect these things when teaching):
Below is a list of five things that teachers tend to overlook. Don't let it be you! Instead, use these yoga teaching tips to boost your confidence – and your teaching in general!
1. Take care of your mental health
It's no secret that it's hard to make a living teaching yoga. Yoga teachers have to be creative to make a living teaching yoga. It's tempting to teach 10 or 15 lessons a week, run from studio to studio with a mat on one shoulder and a bag full of props on the other, all while stuck in traffic.
You won't do yourself or your students any good if you stretch yourself too thin. You have to pay attention to your own needs and make sure that your mental health is a priority. This will make you a better yoga instructor and a better person in general.
This means negotiating your salary, diversifying and developing your offerings, and yes, taking breaks. It may seem counterintuitive at first to teach less, but when you are functioning at 50%, your teaching reaches 50%, and when you feel most energized, your teaching will reflect that as well.
Yoga Teacher Tip: Think your impact over reach, quality over quantity.
2. Maintain your authenticity
Being a yoga teacher can be intimidating. We want to emulate our most influential teachers, provide value to our students, and (not so secretly) change the world. Especially early in your career, you may feel some unspoken pressure to have the best yoga mat on the planet, the trendiest clothes, and maybe even a huge following on social media.
But teaching yoga is a lot about making new friends. If you want to attract the right people, you need to show who you really are.
There is no need to change yourself when you teach. Being yourself, with all your qualities and little quirks, will appeal to students who can identify with you. When people like your classes, they may appreciate your consistency or your outfit, but they come back for your unique voice and insight.
Yoga Teacher Tip: Creating community means offering something they can't get anywhere else: you.
3. Feed your inquisitive mind
Yoga is an ancient practice that includes a number of principles, guidelines, masters and gurus to be respected. And in a sense it is true that these ancient methodologies are what make yoga what it is. Yoga is an ancient practice that encourages you to understand your body and mind.
However, you need to use critical thinking when consuming yoga content to continue to grow as a yoga instructor.
There will be times when you disagree with the way something is taught or said, either because of outdated evidence or because of your own experience. But if you learn to keep an open mind and think about your personal opinion about your yoga practice, you can grow in a unique way that can ultimately make you a better yoga teacher.
Yoga Teacher Tip: Keep learning, exploring, and growing your yoga practice and knowledge while remaining open to different perspectives.
4. Invest in yoga insurance
With thousands of hospital and doctor visits each year due to yoga-related injuries, it's important to realize that injuries do happen. And unfortunately, many yoga teachers neglect to purchase yoga insurance to help protect themselves and their yoga business from legal claims and lawsuits.
When you buy yoga insurance, you give yourself the peace of mind you need to do your job right. Insurance yoga allows you to stop worrying about the "what ifs" and focus all your energy on learning.
The good news is that beYogi offers yoga teachers and students access to affordable, comprehensive yoga liability insurance, including teaching styles like SUP Yoga and AcroYoga, at no additional cost.
beYogi has developed a yoga insurance program that covers whatever style you teach, no matter where you go – most other yoga insurance companies don't offer this.
Not sure what you need? Here's how to choose the right type of yoga insurance for yoga teachers
Yoga Teacher Tip: Protect yourself and your business by investing in yoga teaching insurance.
5. Prioritize your personal yoga practice
For some reason, at some point after teacher training, many yoga teachers forget about their personal yoga practice. As a teacher, you strive to plan sequences, create unique playlists, and come up with mantras to help your students be more present in class.
But often when we take on teaching more weekly classes and get more involved in running workshops and such, we tend to neglect our own time on the mat.
One of the amazing aspects of being a yoga teacher is that the learning never stops. Whether you feel like improving your knowledge of yoga philosophy or your understanding of anatomy, the possibilities are endless.
The only way to be sure that your teaching is developing and growing is if you are developing and exploring your own yoga practice. Take lessons from another teacher, try an online yoga class, read new yoga books – get out there and have a conversation!
Yoga Teacher Tip: Schedule time for personal practice just like you would schedule a class!
Follow these tips for yoga teachers to increase your impact!
Remember that your presence and personal well-being are just as important as your students'. And with these tips for yoga teachers, you're ready to be the best you can be!
As a yoga instructor, you no doubt want to feel grounded and calm during your practice. This includes prioritizing your health, investing in yoga insurance, and setting aside time to focus on your personal yoga practice.
For a limited time, beYogi is offering YouAligned.com readers $30 off their annual yoga insurance premium, bringing the annual cost down to $149.
This article has been read more than 5 thousand times. Feel the love!